Audio Services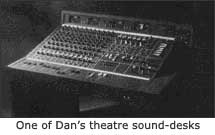 Audio design work has been fuelled by a continuing interest in the theatre. Dan's design of a specialist theatre sound desk as a standard product was amongst the first in the field and continued in production throughout the 1970s. These desks combined broadcast-quality sound with the ergonomic layout needed by a theatre sound technician, and were soon supplemented by a modular theatre communications system (S.M's desk, intercom, paging, show-relay and the worlds first solid state cue light system) with an integrated interface to the sound desk. This system proved to be a very flexible product, and was installed in theatres worldwide.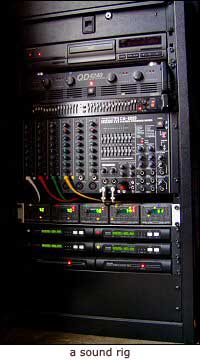 During the '80s a hobbyist's desk for use with four-track tape recorders was designed for a client ... a demanding specification requiring an economical price at the same time as meeting broadcast performance figures and only compromising on connection standards. Cambridge Consultants did the product styling and the Dan Everard Partnership provided the novel single circuit-board electronics design resulting in a desk only 48mm thick.
With the involvement in wheelchair design and the increase in economical good quality sound equipment from the far east the Partnership has gone away from designing the electronics but now supplies systems based on proprietary equipment. In this way years of experience can be used to select the correct solution for a client's needs while keeping the cost down.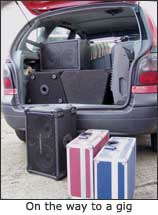 The Dan Everard Partnership also provides a sound reinforcement service to local groups around Cambridge, UK, specialising in unobtrusive amplification for theatre shows and other public events. These have varied from musical evenings, with audiences of fifty or so, to the Shelford Jubilee Celebration, an open air event where the audience numbered 3,500 people.
A normal part of Public Address work is to analyse the acoustics of the venue and correct the frequency response of the equipment. Dan Everard Partnership can provide acoustic analysis as a service to clients for existing equipment if needed.
Contact Dan to discuss your requirements for either building a customised system, venue sound analysis or providing sound reinforcement during an event.

GO TO: home | MOBILITY { Dragon | principles | history } SERVICES { consultancy | audio } contact | about us

© Dan Everard Partnership 2003-2013 | design: MWS @ DEP
Published: 01 January 1970 | created: 28 January 2004